Presentations
I am convinced that focusing on enthusiasm, flow and personal talent has a positive impact on the way we interact with each other. It has consequences for the way we run organisations and how we organise society. It provides a different perspective on education, journalism, healthcare, government and business. My presentations, workshops and training courses are a reflection of the ideas in my books. They are intended to give insight into the dynamics of enthusiasm and provide practical guidelines for implementing these insights. My mission is accomplished if the audience walks out with plenty of energy and useful ideas to work with.
The dynamics of enthusiasm are relevant in every area because enthusiasm is an essential part of human interaction. So I feel privileged that I have been able to present to many different groups. The audiences have included Radio 3 FM DJs, dentists and undertakers. Regularly my clients are large companies, government agencies or educational institutions. Thanks to many international requests, I have also seen a lot of the world. By now I have given presentations on virtually every continent: to business people in India, market researchers in Canada and the police in Hong Kong.
The themes are also very diverse. Sometimes it's about cultivating enthusiasm in customers and creating superpromoters, and sometimes about employee motivation. The emphasis could be on the NPS methodology, use of social media or storytelling. Or it could be about innovation, collaboration between departments or rational and emotional decision-making behaviour. Often it is a combination of these subjects. But always with the dynamics of enthusiasm as starting point.
My presentations cover the following subjects
Customer centricity, customer enthusiasm and superpromoters.
Effectively using NPS or other measures
Employee motivation and the internal dynamics of enthusiasm in organisations
Social Media and the dynamics of enthusiasm amongst clients and employees
Finding the Flame (purpose) of an organisation and the role of customer and employee enthusiasm.
Stimulating cooperation between teams, brands or countries (Flow).
Storytelling as a way of fanning enthusiasm (Flood)
In consultation with the client, I adapt my presentation in terms of topics, interactivity and length. I am happy to include specific information about the organisation or sector. The presentations are developed by a designer. They contain very little text – mainly images, videos, case studies, practical guidelines and inspiring examples from sport, music and business. Here you can see an impression of a presentation 'Opening Social Media Week Rotterdam'. Feel free to ask for a verbal explanation or request a quotation without obligation via the contact form. I generally respond within one working day.
What people are saying about my presentations and workshops:
"Employee engagement is much more than just 'satisfaction or dissatisfaction'. It is about pleasure, feeling safe and supported and being challenged on your strengths. About constant feedback and most importantly, having a higher purpose. Last Friday Mr. Rijn Vogelaar explained our Management Team all about the Enthusiasm Theory and the 'Flame', Flow and Flood.' An eye opener! Facilitating 'The Flow' – in my opinion – should be every manager's objective."
Lotte Mastwijk, LC Packaging, LinkedIn
Co-Presentations
On a regular basis I share the stage with musicians or other speakers. You can find a description of some of these co-presentations below.
Co-presentation with James Whelligan on enthusiasm and live music
Musicians experience enthusiasm on different levels. They allow themselves to be inspired, achieve flow with other musicians and if they are lucky, stand before an ecstatic crowd from time to time. Companies can learn a great deal from these dynamics. James Whelligan is a singer-songwriter and frontman of Annexe the Moon. In our presentations, James demonstrates enthusiasm from the perspective of a musician. Not just by talking about it, but also by performing live!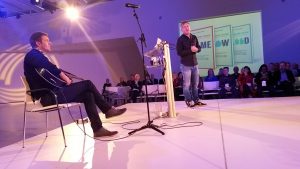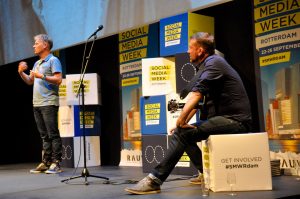 A link to a trailer of a co-presentation with James Whelligan:
https://www.youtube.com/watch?v=_y3Nsa3oVkg
If he receives sufficient notice, Jamie is happy to come from London to provide the musical accompaniment and give his perspective as a musician.